From the Kitchen
Care Instructions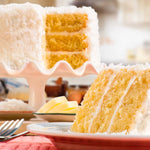 Care Instructions
Cakes & Pies
Our cakes are lovingly crafted with three layers of moist, flavorful coconut goodness.
Before opening, freeze or refrigerate for 30 minutes for easier removal of the wrapping. For best taste and texture allow your cake/cheesecake/pie to thaw completely at room temperature before serving. Our homemade classic cakes and pies are made with only the freshest ingredients. Pies may be kept refrigerated up to one week upon delivery, or frozen for up to one year. Cakes can last up to five days at room temperature or up to one year frozen. Cheesecakes can last up to five days refrigerated or up to one year frozen.


Shop Now
Product Care
Learn How to Properly Unpack and Serve Our Cakes & Pies
Care Instructions
Handcrafted Candies
All our Gourmet Candies are made by hand with no preservatives, only the finest, freshest ingredients, and are perishable.
For additional details regarding the product's shelf life, please refer to the information provided on the back of the card enclosed within your package.


Shop Now
Care Instructions
Warm Classic Pralines
The best thing about a fresh praline is it's very easy to bring back the same taste and texture as when it was first hand-scooped from the copper pot.
When you order pralines from Savannah's Candy Kitchen we always send them fresh. After removing the praline from the bag you can microwave them for eight to ten seconds each or bake in the oven at 250° for six minutes.
Shop Now