Our Shipping Guarantee
Your order is guaranteed to arrive at the specified shipping address provided.
If you are not completely satisfied with the quality of your order upon arrival, please contact us immediately, with a detailed description and photograph(s), please do not discard your package or contents.
Some products do require special handling, please see below for more details. Orders are processed and shipped out within 48 hours of payment*.
Call (800) 504-5088 any time or email us at info@savannahcandy.com and let us set your mind at ease.
Cost of Shipping
Standard Shipping

2 to 7 Business Days (to most locations)

See table below.

Excludes baked goods and other free shipping items.

Expedited Shipping

2 to 3 Business Days


Standard Shipping Charges
+ $29.95

Priority Shipping

1 to 2 Business Days

Standard Shipping Charges
+ $39.95
| Order Amount | Shipping Rate |
| --- | --- |
| $0 to $29.99 | $13.95 |
| $30 to $39.99 | $14.95 |
| $40 to $59.99 | $17.95 |
| $60 to $79.99 | $18.95 |
| $80 to $99.99 | $20.95 |
| $100 to $199.99 | $22.95 |
| Over $200 | $26.95 |
Baked Goods Ship Separately with FREE Standard Shipping
Upgrade any cake, pie, or free shipping item to Expedited for just $29.95 per item, or Priority for just $39.95 per item.
Important Shipping Information
Post Offices boxes are not an option as a destination.
We regret that we cannot ship to Post Offices (P.O. Boxes).
Alaska and Hawaii must ship expedited.
Items shipped to Alaska and Hawaii must ship expedited to ensure quality. Otherwise, it is impossible to guarantee timely delivery.
Baked goods can only be shipped in the continental United States.
To ensure freshness, all baked goods must be shipped to a street address in the continental United States.
Layer cakes ship on Monday, Tuesday, and Wednesday only.
Layer Cakes and other baked goods packed with dry ice have additional restrictions.
Orders requiring dry ice only ship Monday through Wednesday.
To ensure freshness, orders with dry ice only ship from Savannah's Candy Kitchen on Monday, Tuesday, and Wednesday. Orders placed after Wednesday will be moved to Monday the following week.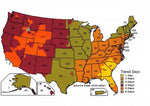 Standard Shipping
Please use this map to calculate the estimated count of working days required for your confections to reach their destination following order processing.
During the checkout process, you have the option to choose a "shipping date" for your order, specifying the precise date when it should depart from our store.
Please call us if you have special requirements
If you require delivery on a specific date but are unsure about the ideal shipping date, feel free to contact our customer service representatives anytime at (800) 504-5088 for assistance.
Our toll free number is (800) 504-5088.
Questions? We're here to help.
Frequently asked questions
Can I send gifts to multiple addresses?

Yes! From your cart, simply check the box for "Send to Multiple Addresses," then select the address for each item. At Checkout you will be asked to pick a shipping method for each address.
Can I order now and ship later?

Of course, this is highly recommended when ordering ahead of a gifting season. On product page, select the "ship date" for any date in the future. Remember to account for how many business days are needed for transport after the ship date to get it to your destination on time.
Can someone help me with my order?

We are always here to help! Please contact us at +1 (800) 504-5088 or info@savannahcandy.com